Configuring ThreatSTOP reports to be delivered automatically by email.
Overview
The Email Reporting feature allows you to save a combination of Report Filters and configure the report to be emailed automatically.
Creating a new email report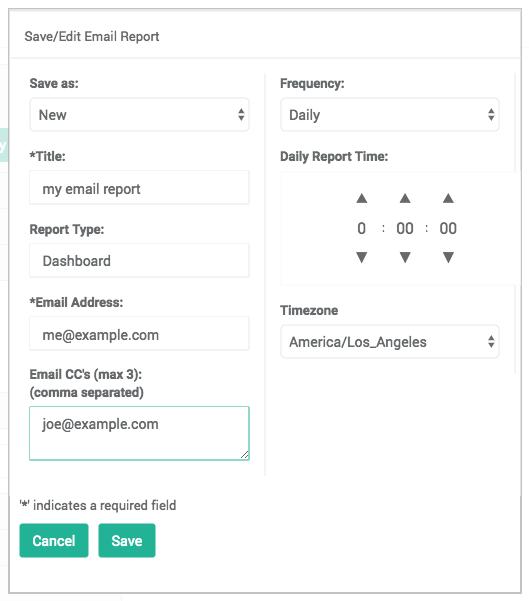 To create a new email report:
Select the report type and filter settings. All report summaries can be used as a daily report.
Preview the report
In the filter widget, click on Save/Edit Email Report and select the settings:

Save As: You can save a new report or overwrite a previously created report.
Title: A brief title for the report.
Email Address: The email address the report should be sent to.
Email CCs: If the email should be sent to more than one address, enter the extras (up to three) here.
Frequency: How often the emails should be sent out, this can be Daily, Weekly, or Monthly.
Daily Report Time: Determines the time of day that an email report will be generated.
Timezone: Sets the timezone for the Daily Report Time.
Editing an email report
To change the settings of an email report, follow the same steps as for the creation of a new report. When selecting the name (Save As), select the report you want to replace.

To view the list of email reports and their configuration, browse to the Email Reports menu entry for the Report type (DNS, IP, Roaming). You can delete reports from this list.